Notequalsoft is a small software development studio specializing in Microsoft® .NET™ applications and web development. Most software available on this site has been designed during the free-time of our developers, so please support us by purchasing our software if you find it useful.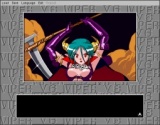 Notequalsoft game and game utilties development, including the Henjin Web Game Engine: the Web's most powerful zero-footprint fully JavaScript™-powered gaming engine.

Mankind first learned to use tools tens of thousands of years ago. Join the (r)evolution.

Notequalsoft standards-compliant web design and Web Services development.